If you have any information about these crimes or any person(s) involved, you are urged to call Crime Stoppers at or submit a Web Tip . You do not have to give your name. CRIME STOPPERS will pay a cash reward of up to $3000 and you can remain anonymous.
WANTED by PSL PD (2017/03/29)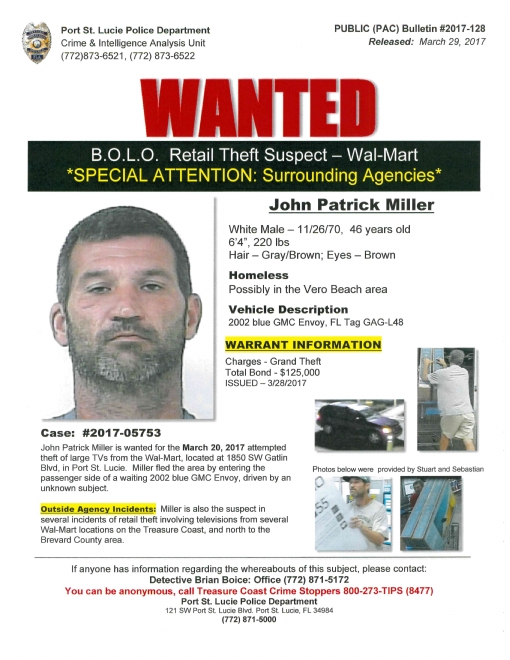 ---
REQUESTING INFORMATION ON OFFICER DEATH (2017/02/20)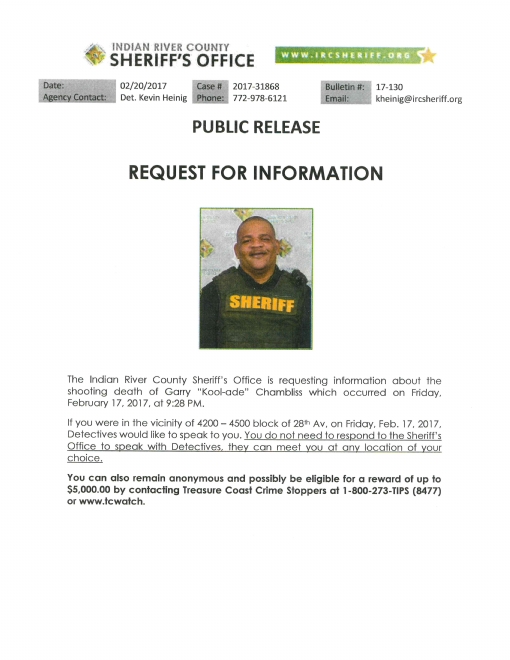 ---
CREDIT CARD FRAUD SUSPECT (2017/02/14)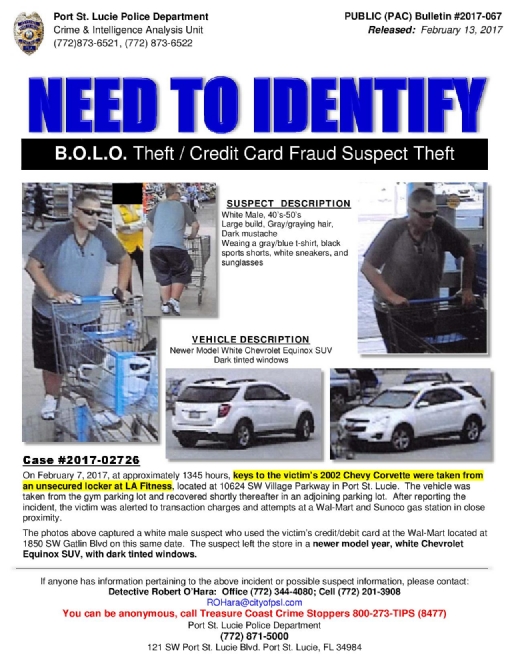 ---
WANTED SECOND DEGREE MURDER (2017/02/10)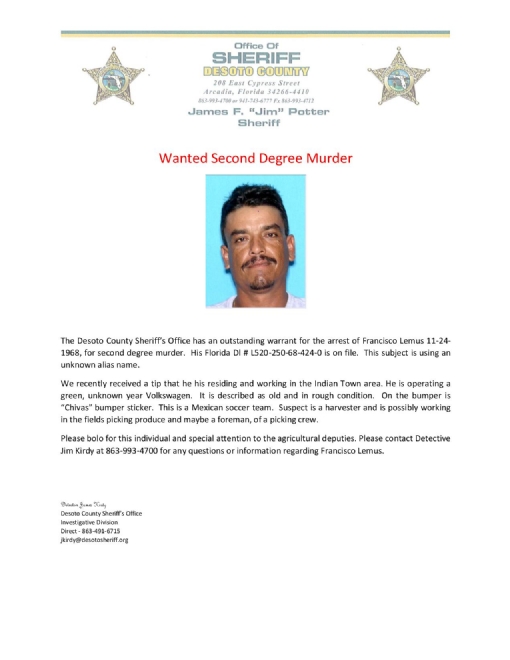 ---
ATTEMPT TO IDENTIFY (2017/02/02)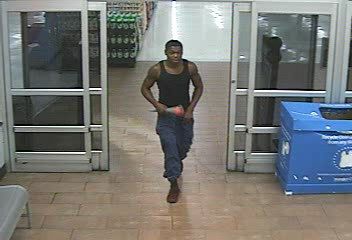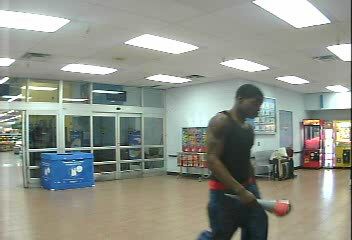 On January 19, 2017 between the hours of 1:00 am and 7:00 am, a 2014 Dark gray Chrysler 300 was stolen from the 38000 block of

NW 35 Avenue, Okeechobee, Florida

. The suspect shown in these pictures was in the stolen vehicle and seen leaving Wal-Mart as depicted in these pictures. The vehicle has been located.
If you have any information as to the identity of this suspect or other information about this case, contact Detective Sgt. Jimmy Mills, (863)763-3117, ext. 5116. Case #17S01349.
No further information to release at this time.
Michele Bell, PIO
---
MISSING PERSON/ RUNAWAY (2017/01/30)
NAME: MARQUAVIUS TYRECE WILLIAMS
DOB: 04/05/2002 RACE/SEX: B/M5'0" – 5'4"; 100-115 LBS.;
HAIR: BLACK (SOMETIMES WEARS WHITE BANDANA OVER HEAD); EYES: UNKNOWN
LAST SEEN WEARING: UNKNOWN SHIRT, BROWN PANTS, RED TENNIS SHOES
LAST SEEN: WEDNESDAY, JANUARY 25 BOARDING SCHOOL BUS AT HIGH SCHOOL
CONTACT DETECTIVE CARI ARNOLD WITH ANY INFORMATION, (863)763-3117 EXT. 5111
REFERENCE CASE #17S02039
MICHELE BELL, PIO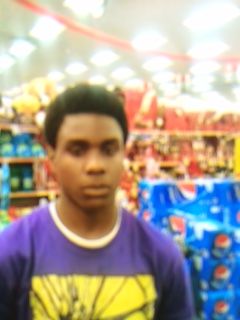 MAY BE IN THE COMPANY OF MISSING/RUNAWAY DERRICK PINDER
(OKEECHOBEE CITY POLICE DEPARTMENT CASE)
---
ASSAULT/BATTERY- ROAD RAGE INCIDENT (2017/01/20)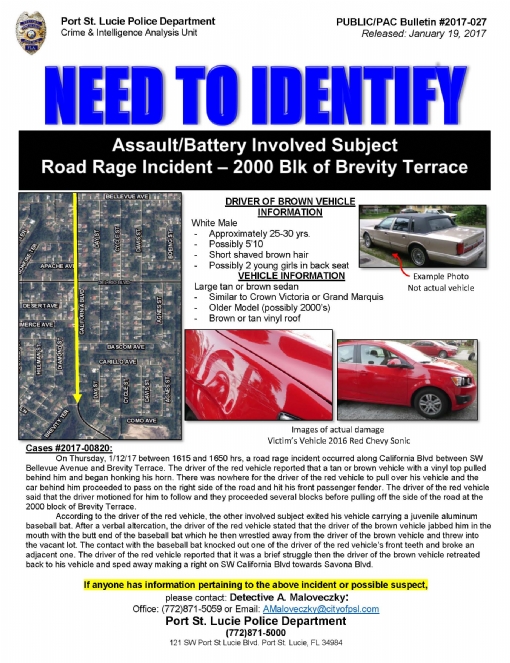 ---
BUSINESS BURGLARY SUSPECT (2017/01/06)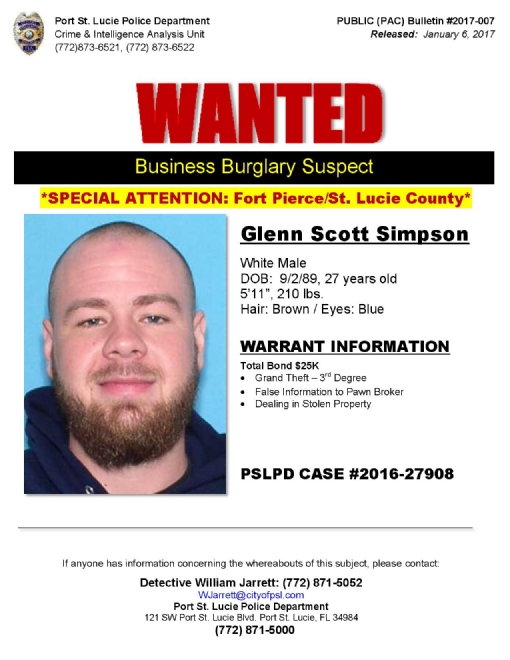 ---
NEED TO IDENTIFY (2016/12/13)
---
VANDALISM SUSPECT (2016/11/21)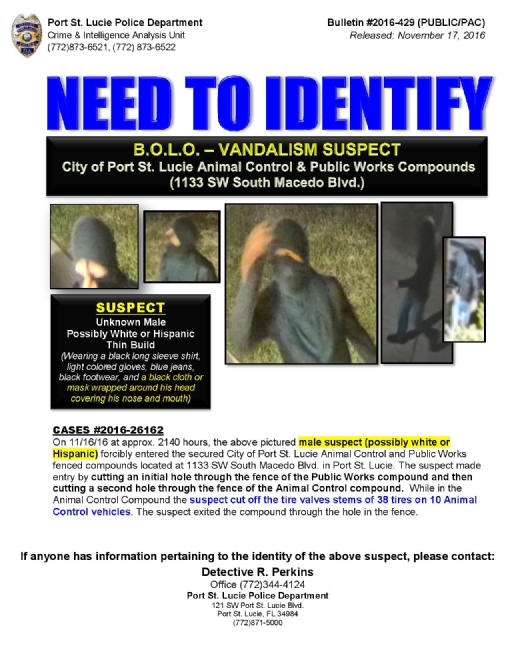 ---
CELLULAR THEFT AT PUBLIX (2016/11/18)
---
LEWD & LASCIVIOUS SUSPECT (2016/10/03)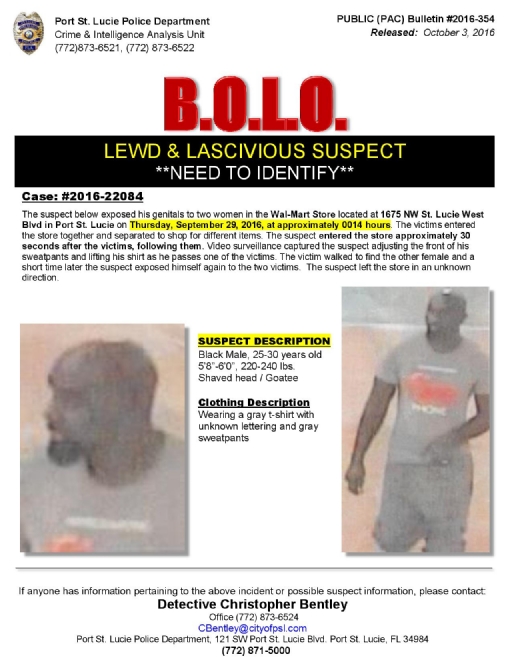 ---
ATTEMPTED ABDUCTION (2016/08/30)
Media release: August 26, 2016
Yesterday afternoon, a suspect who identified himself as
Nikromuh Cocoa Koondo (22) of Orlando
, attempted to grab and abduct a fourteen year old male subject on the west side of Gifford Middle School as the teenager was waiting to be picked up from school. The subject was dirty, not wearing shoes, and appeared to be homeless. He grabbed the boy telling others that he was there to pick up his child. The teenager pulled away from the subject and ran away. Indian River County Sheriff`s Deputy David Ragley was on scene and chased after the subject. He was apprehended by Deputy Ragley and Deputy Denton Kitchell, who was also in the area.
Detectives interviewed the subject who provided a variety of false names and was very evasive during the interview. A fingerprint check of the subject shows that he was arrested by our agency in July of 2016. Detectives still do not believe the name given is the correct one and are attempting to identify him. Detectives are also seeking the help of the public to identify where the subject has been living and any other information about this person.
Indian River County Sheriff Deryl Loar stated, "The person sitting in our jail has not told us the whole story and is not willing to cooperate. Yesterday he attempted to abduct one of our most vulnerable, our children. Fortunately, our deputies were on scene and able to take him into custody before something bad could happen. Now we need your help to put the pieces together about where this person has been and to determine if he has hurt any other children in the past."
The subject was booked into the Indian River County Jail under the name
Nikromuh Koondo and received a $101,000.00 bond for the charges of kidnapping, resisting arrest without violence, and giving a false name while detained
. Anyone with information about this subject should contact Detective John Clark at (772) 978-6188 reference to
case number 2016-147391
. You can remain anonymous and possibly be eligible for a reward of up to
$1,000.00 by contacting Treasure Coast Crime Stoppers at 1-800-273-TIPS (8477) or www.tcwatch.org .
---
ARMED ROBBERY SUSPECTS (2016/08/23)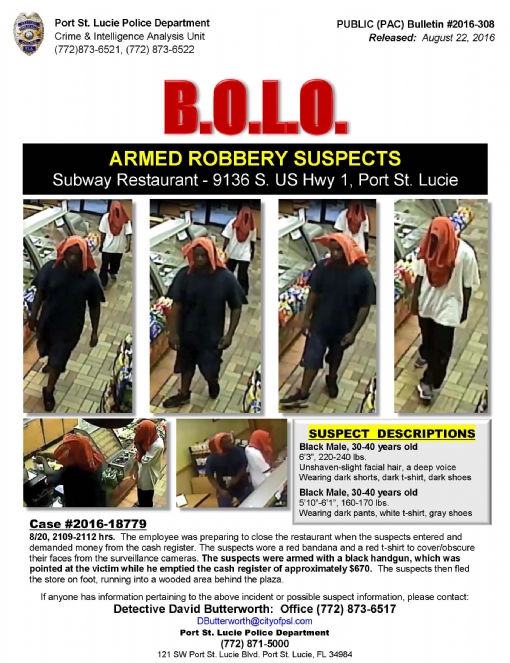 ---
ARMED BANK ROBBERY SUSPECT (2016/07/18)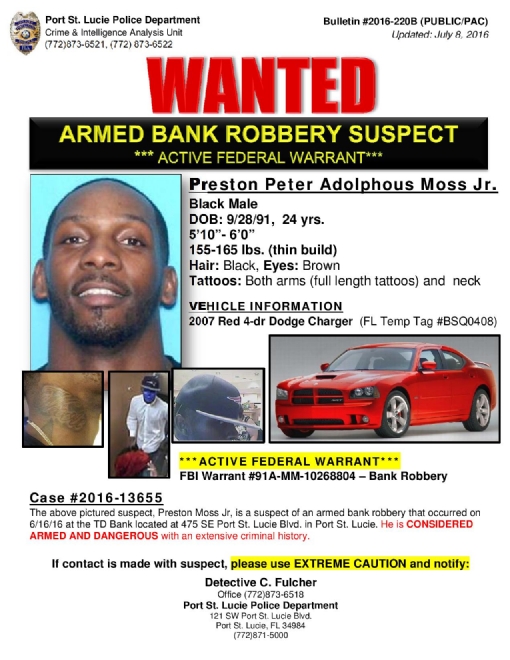 ---
UNSOLVED SHOOTING (2016/04/01)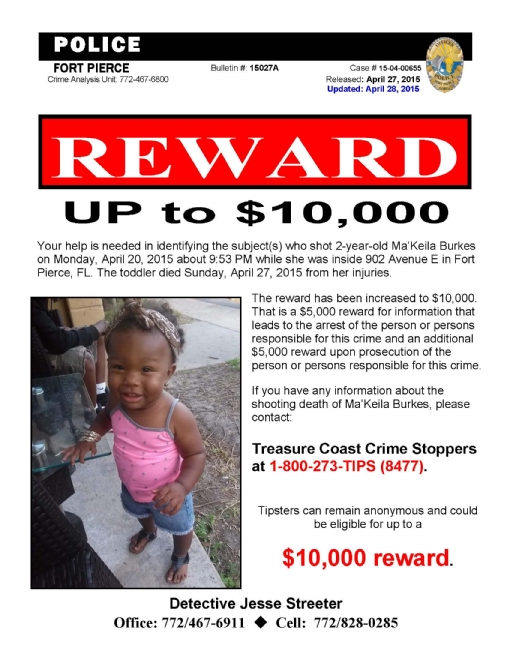 ---
FATAL HIT AND RUN (2016/01/06)
FLORIDA HIGHWAY PATROL
PRESS RELEASE
_________________________________________________________________________________________________________________________
For Immediate Release
Contact: Sergeant Mark Wysocky
01/06/15 Florida Highway Patrol Office: 954-837-4012
Cell: 954-242-3340
Indian River County: Florida Highway Patrol investigators are attempting to locate a hit and run vehicle from the fatal pedestrian crash that occurred on January 1, 2016 at 9:00 PM. The pedestrian was walking on 20th Avenue SW near 1st Place SW when he was struck by a vehicle that left the scene. The vehicle fled northbound and is described as a pick-up truck or SUV type vehicle that may be lifted and may be orange in color and may have minor front end damage. If anyone has information about this vehicle or the crash they are urged to contact the Florida Highway Patrol at 954-837-4012 or Crime Stoppers at 800-273-8477.
The Florida Department of Highway Safety and Motor Vehicles: providing A Safer Florida by securely maintaining the records of more than 19 million registered vehicles and over 15 million licensed drivers, as well as providing safe travel along Florida's highways. To learn more about DHSMV and the services offered, visit www.flhsmv.gov, follow us on Twitter @FLHSMV or find us on Facebook.
---
Animal Cruelty Press Conference (2015/12/19)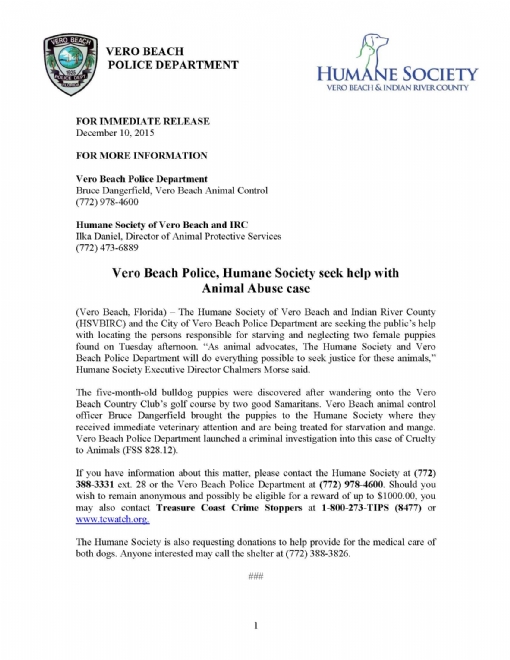 An Additional $1000 REWARD is being offered through the Vero Beach Police Department, this is in addition to any Reward from Crime Stoppers.
---
NAKED BURGLARY SUSPECT (2015/11/17)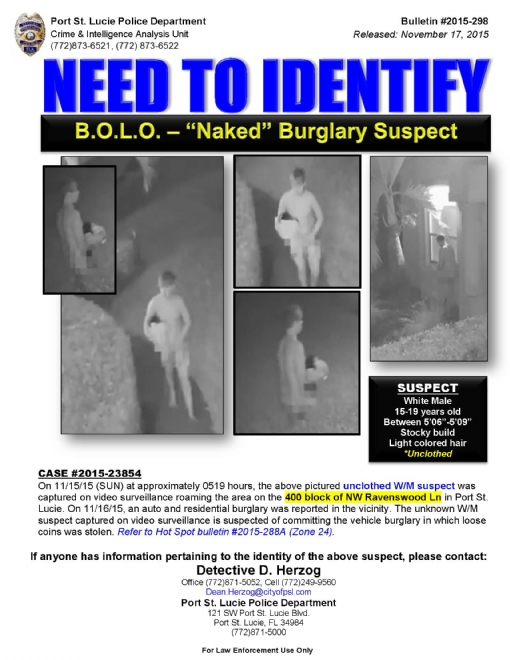 ---
ROBBERY SUSPECTS (2015/11/04)
Robbery Suspects
On 10/19/15, between 0258 and 0300, two Black males wearing masks and dark colored hoodies, possibly driving a dark colored Ford SUV: Excursion or Expedition, using dark color semi-automatic pistols, robbed three young adults; two White males and one White female at the corner of NW Hibiscus and NW Billiard. Two cell phones, wallet, and keys were taken during the robbery.
---
| | | |
| --- | --- | --- |
| Page 1 of 2 | 34 Records | Prev | Next |